We couldn't help but notice this absolutely brilliant idea (not).
The maker of a hand sanitizer kiosk device has scored a deal with a UK advertising agency to install their devices, including the alcohol-based formula, throughout subway stops extending across England's 'underground'.
Causing us to scratch our heads and think..."Gee-how long before some fellow figures out that these devices, presuming they really contain alcohol and are installed in subway stations no less, provide the ideal vehicle for a large molotov cocktail?"
And if not a flammable cocktail, wait until the advertisers on those kiosks realize how many eyeballs, and open hands they attract when travelers appreciate the free cocktail being dispensed in public kiosks throughout the UK underground system...
Yes, Matilda--alcohol hand sanitizer formula is equivalent to a 120 proof libation...Cheers!!!!
(Exactly why a small handful of smart people at the US General Service Administration, and the US DOT installed
devices that contain NON-ALCOHOL formulas)
Outdoor advertising firm taps into Swine Flu concerns with free hand-sanitizer units
LONDON - Hand sanitizing units carrying adverts are being trialled in the UK to encourage consumers to wash their hands to prevent to spread of Swine Flu.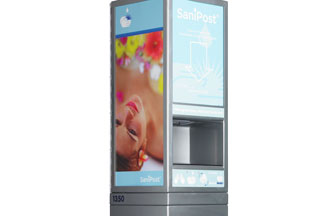 Ad-funded hand-sanitizer unit
The free-standing units have already been placed in shopping centres around the country including Drakes Circus in Plymouth, Halton Lea in Runcorn, the Broadwalk in Edgware, Wood Green Mall in London and Waltham Cross. No advertisers have signed up yet.
The SaniPost units dispense quick-drying, alcohol-free foam. The hand-wash service is free and carries three advertising panels.